I got another week in the Griz Wing of the Zuckerberg Detention Center for Free Thinkers.
Why? what heinous content did I dare bring to the table?
well, it was this: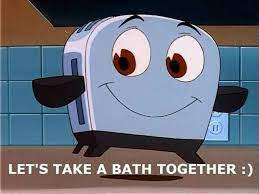 This little toaster it seems, promotes suicide or self harm. At least that it what the small minded staff of the the Zuck police force/prosecutors/jury/judge had to say.
I am kind of curious how one can be harmed by a fictitious character who not only is not plugged in, but seemingly has no cord. How could this tidbit of humor be a danger to the community?